Customer Service
Answers to our most commonly asked questions.  Please feel free to contact us for more help.
Product variances
Products may vary slightly from their pictures.
Product images on our website are for illustrative purposes only (or Product images on our website are for reference only and should be considered illustrative). Although we have made every effort to display the colours accurately, we cannot guarantee that a device's display of the colours accurately reflects the colour of the products. Your product may vary slightly from those images.
For all products made from natural materials, such as wood, rattan and marble, there will be variances in colour, shade, finishes and grain patterns due to the inherent nature of such materials. Please note that your furniture may have colour or grain differences from the online photos.
As our products are handmade, all sizes and measurements indicated on our website may vary slightly. Also, we cannot guarantee to match products exactly which have been ordered at different times.
Finishes on the bottom and interior facing surfaces will be finished as deemed fit such as with sealant or lacquer and are not finished the same as the exterior surfaces unless specified.
By making a purchase, you acknowledge the presence of the aforementioned variances which are not considered as manufacturing defects.
Do you have a showroom where we can see the products?
Yes! Our showroom is open daily from 9:30am to 6:30pm:
379 Upper Paya Lebar Road
Singapore 534972
Tel: +65 6283 4782 / +65 6283 4722
How much is the delivery fee?
We charge a S$30 delivery fee for purchases below S$200.
Delivery is free for purchases above S$200 (within Singapore only)
Do you ship outside of Singapore?
For international orders, we would be happy to review your order list and advise on the shipping costs.
To facilitate the quotation process, customers may add products to the Enquiry Cart available and send it to us for our follow-up.
When will I receive my order?
(Available) delivery slots choices are offered during the checkout process.
We are committed to meeting the delivery slot of your choice but in certain cases involving a combination of product types (e.g. bulky and small items), we may need to contact you for further arrangements.
What's the Enquire option for?
The
Enquiry Cart
is useful for customers who may need to clarify further on a list of products prior to purchase.
If you are enquiring from outside of Singapore, we would be happy to review your order list and advise on the shipping costs.
To facilitate the quotation process, customers may add products to the Enquiry Cart available and send it to us for our follow-up.
Is there a warranty period for your products?
For table lamps
If for no reason the lamp fails to work within 3 months of purchase, you may send it in for repair at our showroom. If the failure is due to damage caused by external sources (exposed to water, extreme heat etc.), the warranty is not valid.
For furniture
The warranty period is one year for any cracks, splits or damage that appear on its own. If the damage is caused by owner or other external sources that is not the fault of Just Anthony's, you may contact us to see how we can assist with the repair, at your own cost.
What about assembly?
Assembly is provided for free when we deliver your goods.
What forms of payment do you accept?
Credit Card
We accept credit card payments (Visa, Master, Discover and American Express) through Paypal.
PayNow
PayNow is a peer-to-peer funds transfer service available to retail customers of nine participating banks in Singapore – Bank of China, Citibank Singapore Limited, DBS Bank/POSB, HSBC, Industrial and Commercial Bank of China Limited, Maybank, OCBC Bank, Standard Chartered Bank, and UOB.
Please see the section 'Using PayNow' for details on this option.
Bank Transfer
You may also opt (during checkout) to transfer funds to our bank directly:
Bank name: United Overseas Bank Ltd.
Branch: Hougang
Account name: Just Anthony (S) Pte. Ltd.
Account no.: 213-307-998-1
Bank code: 7375
Branch code: 063
Swift: UOVBSGSG
Your order will be processed as soon as funds have cleared in our account. Please do update us via email with the transaction ID and quote your Order reference number.
Do you accept Cash on Delivery?
We do not accept Cash On Delivery payments.
Using PayNow
There are 2 ways you can make payment with your mobile banking app:
Option A
Select PayNow during Checkout, scan the automatically-generated QR code with your preferred mobile banking app, attach the transaction receipt and click on [Place Order]: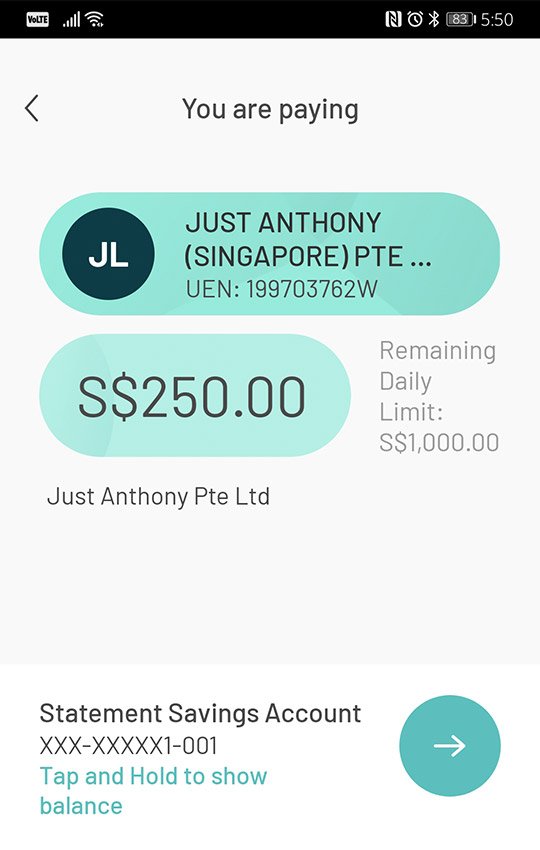 Option B

Do a manual transfer to our UEN 199703762W
Log in to your mobile banking app.
Tap Pay / Transfer / PayNow.
Enter our UEN reference number and follow the steps on your mobile banking app to complete the transaction.
After you complete the transaction, simply email us the bank transaction reference or the screenshot for verification and we'll proceed with your order!
Whether you use option A or B, the banking app should prompt you with a transaction screen to our account 'Just Anthony (Singapore) Pte Ltd'.  Please note that respective bank apps appear differently and the screenshot samples here are meant only as a guide:
Can I pay in instalments?
Yes you may!
We offer the option of 3 months interest-free payments using any credit or debit card, available during checkout.
Powered by


Can I cancel an order once it's paid?
Unfortunately, in most circumstances it's not possible to make changes to your order once payment is processed. If you'd like to add more products to your order, please place a new order for these items.
Can I exchange or return an item that is damaged?
Just Anthony will do our utmost to ensure that your item is packaged safely for delivery. If your item is damaged during transit, please inform us by phone or email within 24 hours of delivery, and we will exchange the item for you.
Exchange and return of damaged item will not be honoured after 24 hours upon receipt of goods.
We do not accept international exchanges/returns unless we have sent you the wrong item. If so, please contact us.
Can discounted items be exchanged?
All discounted items are non-exchangeable and non-refundable.